2018 Honda Accord vs. 2018 Toyota Camry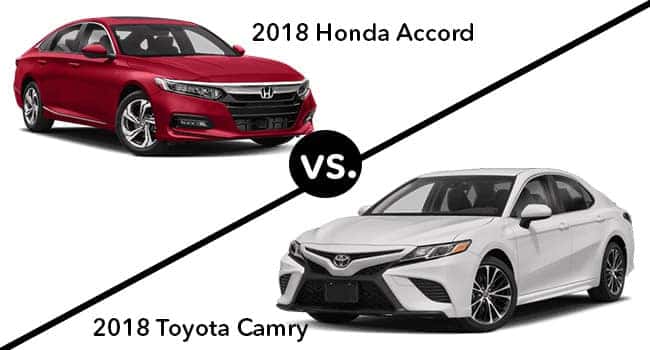 There's been a lot of buzz about how the all-new 2018 Honda Accord stacks up against one of its most foreboding contenders; the 2018 Toyota Camry. Both of these popular midsized sedans underwent a thorough redesign in model year 2018 and boast significant improvements, but which one wins in a head-to-toe comparison? The chart below outlines how the 2018 Honda Accord compares to the 2018 Toyota Camry in key areas such as price, technology/features, performance, overall value and fuel economy.
As you can see, the 2018 Honda Accord LX and Sport 1.5T boast better fuel efficiency vs. the Camry LE and SE, with the Accord Touring trim matching the comparable Camry XSE V6's city and combined MPG's. The Accord also offers more passenger volume on every trim level vs. like Camry trim levels, and a lower comparably equipped MSRP*. Another distinct advantage the Accord offers is standard Apple CarPlay™ and Android Auto™ integration on all Sport 1.5T and Touring trim levels. These popular features are not even available on the Camry LE, SE or XSE V6 trim levels.
For overall value, the 2018 Honda Accord also comes out ahead vs. the 2018 Toyota Camry. The Accord's LX, 1.5T and Touring 2.0T trim levels all scored a higher ALG Residual Value percentage in both the 36 and 60 month categories. Plus, the Accord's superior torque means more fun-to-drive performance. When you look at the overall comparison, the Accord clearly beats the Camry on just about every level. But we think the folks at MotorTrend say it best: "Simply put, Toyota built a better Camry, but Honda built a better car." To experience that all-new, award-winning 2018 Honda Accord, stop by and see us, or contact us via our website to schedule your test drive!
View full 2018 Honda Accord vs. 2018 Toyota Camry comparison brochure.