2019 Honda CR-V Tops Motor Trend's Compact SUV List in the Big Test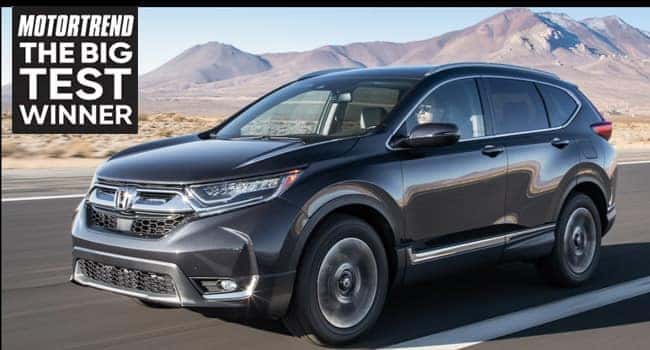 2019 Honda CR-V Tops Motor Trend's Compact SUV List in the Big Test
With today's crossover offering excellent fuel efficiency, cutting edge tech, comfort and cargo capacity, it's not surprising that these versatile vehicles have become extremely popular over the last decade. If you've decided that a compact SUV is the right choice for you, there are certainly a lot of options to choose from – but which make and model is the best? Luckily, the car-enthusiasts at Motor Trend Magazine have conducted extensive research and comparisons on the top 8 small SUV's. The lineup consists of the 2019 Toyota RAV4, Chevrolet Equinox, Honda CR-V, Hyundai Tucson, Jeep Cherokee, Mazda CX-5, Nissan Rogue, and the Subaru Forrester.
When pitted against the competition in key attributes such as performance, handling, specs (cargo volume, headroom, legroom, etc), interior comfort/amenities, safety and value, the 2019 Honda CR-V emerged victorious*. The Motor Trend judges summed it up nicely by saying "It seems that no matter what challenge we throw at the fifth-generation CR-V, it excels…..No crossover provides a better overall balance than the Honda. It's fun to drive yet still comfortable. It's quick yet efficient. It's affordable yet still well equipped. And it's compact on the outside and spacious on the inside."
The Motor Trend evaluators loved the CR-V's ample cargo volume and passenger space paired with high quality interior materials and design, stating "All materials are pleasing to the touch, and the mix of colors and textures provides an open-air feel." They also appreciated the advanced Honda Sensing® Suite of driver assistive technologies, noting that the "CR-V's lane centering and related systems perform more smoothly and consistently than any other in this group."
Click here to read the entire Motor Trend article, and to experience the award-winning 2019 Honda CR-V for yourself, stop by and visit us at Keenan Honda in Doylestown, PA or click here to contact us today!
*2019 Honda CR-V EX-L Model Tested.