3 Honda Models Earn 2018 Edmunds Best Retained Value Awards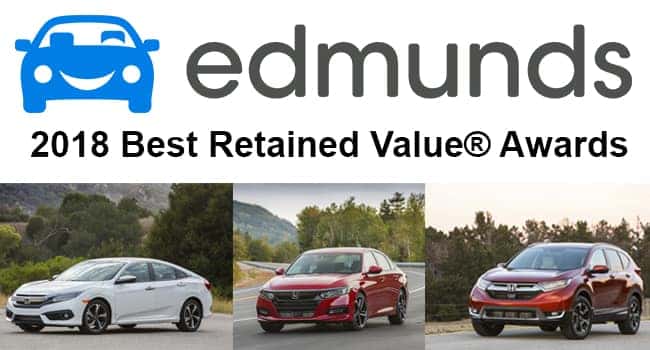 3 Honda Models Earn 2018 Edmunds Best Retained Value Awards
The 2018 Honda Civic, Accord and CR-V have earned Edmunds Best Value® Awards in the Compact Car, Midsize Car and Compact SUV categories, respectively. Hondas are already renowned for their reliability, safety and low cost of ownership, but this additional accolade highlights that they also hold their value after they are driven off the dealership lot. Vehicles with strong residual values typically have lower lease payments and can garner an optimal trade-in value. Edmunds evaluated dozens of different automotive brands to evaluate which ones will provide the best bang for your buck in terms of residual value.
2018 Honda Civic (Compact Car): The Edmunds evaluators loved the Civic's impressive fuel economy as well as the fun-to-drive character availed by trims with a turbo-charged engine. They also liked its comfortable ride, spacious cabin and excellent technology and safety features.
2018 Honda Accord (Midsize Car): All-new for 2018, the Edmunds editors appreciated the Accord's abundant standard safety features, spry handling, and roomy, well-appointed interior along with its fantastic fuel efficiency.
2018 Honda CR-V (Compact SUV): The CR-V was completely redesigned in 2017, and the Edmund's judges praised its turbo charged engine and fun-to-drive character along with the impressive cargo capacity and well thought out storage areas.
"Buying a new car is a huge financial decision, and our 2018 Edmunds Best Retained Value Awards are designed to help shoppers discover the brands and vehicles that can help them get the most out of their investment,… This year's winners underscore a commitment to quality and reliability, and are good bets to hold their value over the course of ownership." Avi Steinlauf, Edmunds' CEO
The 2018 Edmunds Best Retained Value Awards help savvy car-buyers determine overall ownership value of a new vehicle, beyond just the initial purchase price, by evaluating the highest projected residual value after five years. Interested in test driving the 2018 Civic, Accord or CR-V? Give us a call or contact us!