Auto Dealers CARing for Kids Foundation Driving Away the Cold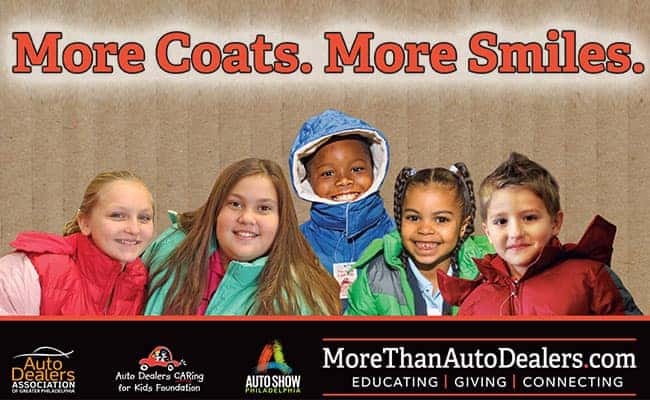 Auto Dealers CARing for Kids Foundation Driving Away the Cold
The cold weather will soon be upon us. Unfortunately, there are thousands of children in our area that need a warm winter coat and don't have one. This is a heartbreaking situation, as no child should have to go without the basic necessity of warmth and comfort. That is why Keenan Honda and Keenan Motors are thrilled to once again participate in the Auto Dealers CARing for Kids Foundation Driving Away the Cold Program! This is our 14th consecutive year joining forces with several other Bucks County area car dealerships to "Drive Away the Cold" for children in need. In addition to the 200+ winter coats we've already pledged for 2021, we'll also donate an additional coat for each car we sell during the month of September. This year, Driving Away the Cold is on track to distribute over 53,000 new coats, and since the program started in 2008, over 473,928 new winter coats have been collected and donated – that translates into more than $7.3 million given to children in need!
How Can you Help?
Now it's super easy for our Keenan Honda and Keenan Motors customers to participate. Our Keenan Motor Group Driving Away the Cold Pledge Page allows you to "Spread the Warmth" by donating money (any dollar amount) to benefit this year's Auto Dealer CARing for Kids Foundation winter coat collection.
About Auto Dealers CARing for Kids Foundation:
This amazing organization goes beyond collecting winter coats every year for local children in need. Their mission is to "enhance and enrich the lives of children and youth in the communities where our dealer members work and live". In addition to their annual Driving Away the Cold coat drive, they have also provided over $9 million in financial support to the Children's Hospital of Philadelphia (C.H.O.P) and numerous other children's charities in the five-county Philadelphia Area since their incorporation.
Logistics:
Coat distributions will occur throughout October in area YMCA's (we'll be at the Central Bucks Family YMCA in Doylestown, PA), schools, social service agencies, and the like. The main distribution event will take place at Auto Dealers Association of Greater Philadelphia Headquarters, where the official count of coats collected will be officially announced. We look forward to making 2021 an even greater success, and beating the 2020 record!
For more information about the Auto Dealers CARing for Kids Foundation Driving Away the Cold program, or to make a donation, please visit our Keenan Motor Group Driving Away the Cold Pledge Page or give us a call!