Central Bucks Chamber of Commerce Bucks Fever FilmFest 2021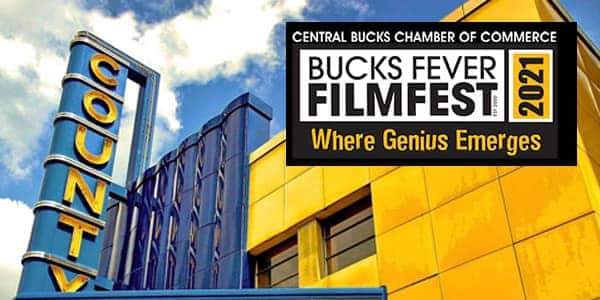 The Central Bucks Chamber of Commerce Bucks Fever Film Fest was established in 1999, born out of the desire to support local and student filmmakers.  Our local County Theatre has proven to be the perfect venue to showcase these cinematic works of art. This year's event will take place October 9th and 10th, 2021. We are honored to support this annual event as a Patron Sponsor!
The very first FilmFest occurred in 2002, receiving over 29 submissions. From those initial submissions, 15 were screened at the theatre. Over the years, the submissions have increased, and winning filmmakers can get extra exposure by having their work aired on Xfinity On Demand Get Local throughout the Philadelphia area.
FilmFest has evolved to offering seminars on film financing, script writing and auditions. Seminar presenters have featured notable figures in the film industry, including Mike Lemmon (exclusive casting agent for all M. Night Shyamalan films), James Breckinridge (script and screenplay writer) and Fred Bauer (Producer of "The Buddy Holly Story").
FilmFest has been a wonderful community resource; supporting our local film makers for over 20 years. To date, FilmFest has distributed over $30,000 in prize money and propagated almost 23,000 views on Xfinity On Demand! For more information, or to purchase tickets, visit the Central Bucks Chamber of Commerce Bucks Fever FilmFest 2021 Event Page.