Central Bucks Regional Police Foundation Comedy Night 2019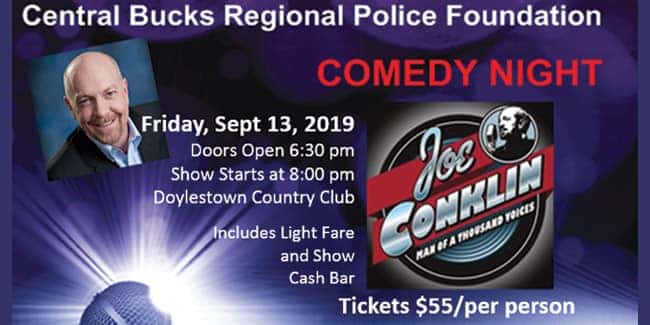 Joe Conklin, the Man of a Thousand Voices, is coming to the Doylestown Country Club for the Central Bucks Regional Police Foundation Comedy Night 2019 and Raffle. This annual comedy show is coming back on Friday, September 13th 2019 from 8:00pm to 10:30pm. What could be better than a comedy show on Friday the 13th? End the day that's usually filled with paranoia and worry by laughing the night away to Joe Conkiln's comedy routine. There is a show cash bar and light fare included with the admission price. Along with the jokes, everyone is welcome to take part in the raffle where they will be giving away frightastic prizes. Just to clarify, the prizes are not going to be horror themed if our pun led you on to that mindset. (What is scarier than Friday the 13th? Our bad jokes). Another clarification is that Joe Conklin's jokes will actually make you laugh (unlike ours). The ticket price for admission is $55 per person.
The Central Bucks Regional Police Foundation Comedy Night is hosted by the Central Bucks Regional Police Department and the funds raised are to support their organization. Keenan Motor Group is proud to support another event that gives back to our community, especially to the part of the community that serves and protects our local Doylestown and surrounding communities. The CBRPD is watching out for our safety 24/7/365. They work hard in the boroughs of Chalfont, Doylestown, and New Britain to to maintain order and safety. So spend that evening giving back to those who are constantly giving back to us by enjoying a night of laughter on Friday the 13th…MWA-HA HA HA. For more information, or to order tickets, visit the CBR Police Foundation Comedy Night Event Page.