CRUSA and FC Bucks 11th Annual Invitational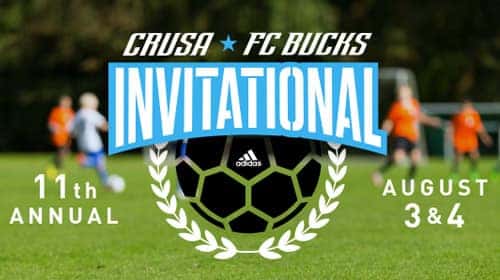 Get ready for the first fall soccer tournament of Bucks County! We are excited to support the 11th annual CRUSA and FC Bucks Invitational. Dates are August 3rd for the boys and August 4th for the girls. The teams permitted to enter in the tournament have to range from a U-9 to a U-19 age group. To make the Invitational equitable for the diverse age groups, the teams will play within their age groups and are also split into "A" and "B" teams to maintain competitive play.
CRUSA and FC Bucks are prepared for 150 teams to participate due to its location. The Invitational will be based in Richboro, PA on many of their different CRUSA fields. Expect teams from all around to participate! In the past, the tournament has drawn teams from as far as Philadelphia and New Jersey! Competition will be fierce!
Imagine your team winning the first tournament of their 2019 fall season and having a game winner's mindset the rest of the season. A first place victory, or your team making it farther than expected, will surely create a morale boost that will last all season long! CRUSA and FC Bucks will be awarding the first and second place teams. They also encourage each team to hand out their patches after each game. The 11th annual Invitation is still meant to be a lot fun and promote great sportsmanship. When the day comes for your team to play their heart out, remember to make the most of the day and to be a good sport on the field! To find out more information about the rules and costs, visit the CRUSA and FC Bucks 11th Annual Invitational website.