Fox Chase Cancer Center "Seeds of Hope" Fundraiser 2019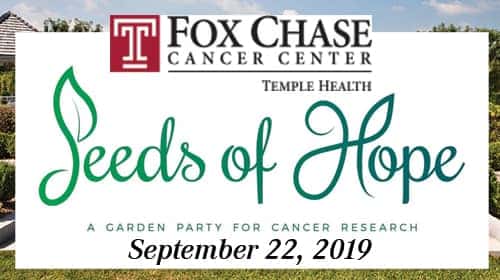 We are excited to support the Fox Chase Cancer Center "Seeds of Hope" Fundraiser 2019. This year's event will once again be hosted at the beautiful Paxson Hill Farm in New Hope, PA. on September 22nd. Live music, delicious food (featuring local cuisine by Aztlan Mexican Grill, Blu Mediterranean Grill, Broadmoor Restaurant, Caleb's American Kitchen, Chive Café & Catering, El Tule, Factory Girl Bake Shop, Lambertville Station Restaurant and Inn, Max Hansen Caterers, My Chef Catering Philly, Olive with A Twist, Pierre's Chocolates, Sweet Victory Gluten & Dairy Free Treats and The Raven) along with a wine bar will be available for the guests to enjoy as they stroll through farm and peruse the exciting silent auction items. The Paxson Hill Farm has 32 acres of gorgeous varietals of plants displayed in unique ways throughout a variety of gardens. They have shade gardens, formal gardens, an area they have named "Never Never Land" and quite a few more.
Seeds of Hope is hosted by the Bucks County Chapter of the Board Associates of Fox Chase Cancer Center. The Bucks County Chapter alone has raised over $4.4 million in funds over the past 30 years since they have been a part of the Fox Chase Center. The hospital started in 1904 and was one of the first to focus on cancer. Since then, Fox Chase Cancer Center has grown to be one of the best cancer research treatment centers in the country. On September 22nd, be a part of this beautiful event viewing a variety of plant life and supporting those working to help those effected by the devastating effects of cancer. The day is sure to be inspiring for all! For more information, or to order tickets, visit the Fox Chase Seeds of Hope Garden Party event website.