Honda Earns 3 Major Kelley Blue Book Accolades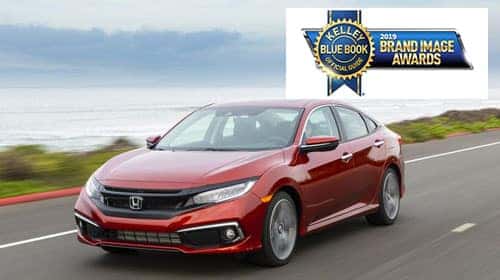 For the fifth consecutive year, Honda has been named a Kelley Blue Book (KBB) 2019 Best Value Brand. Once again, Honda reigned supreme against stiff competition among mainstream brands in each of six categories. KBB recognizes the quality, durability, technology, safety and refined amenities of Honda vehicles, making them a true stand out among other sedan and crossover manufacturers.
Honda has also earned KBB's 2019 Best Overall Non-Luxury Brand for the 2nd year in a row. KBB loved the amplitude of the Honda lineup, with models ranging from the economic and affordable Fit through the rugged and powerful Pilot. They appreciate this range of models because everyone from a first time car buyer or a die hard loyal Honda enthusiast will find their perfect fit within the lineup.
KBB's 2019 Most Refined Brand exemplifies vehicles that offer a higher level of sophistication, detail and craftsmanship. For the 2nd consecutive year, Honda has landed in the Most Refined Brand category among mainstream brands. KBB once again acknowledges Honda's continued evolution towards the synergy created by more premium materials and meticulously deigned and crafted interiors and exteriors. While Honda remains a mainstream brand, the caliber presents as anything but.
For more information, visit Kelley Blue Book's KBB.com. Kelley Blue Book is a registered trademark of Kelley Blue Book Co., Inc.