Honda Passport Earns Top NHTSA Safety Rating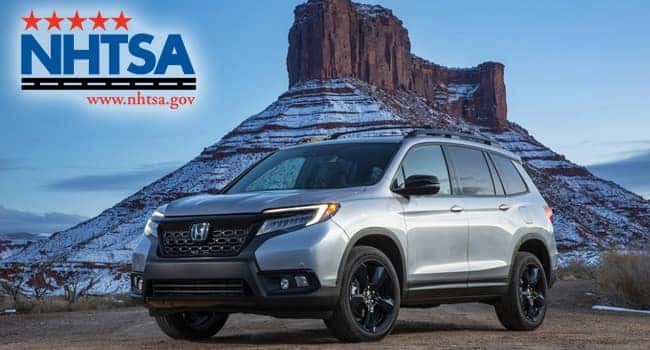 The 2019 Honda Passport received a 5-star overall safety score from the National Highway Traffic Administration. The Honda Passport is the third 2019 Honda model to receive a 5-star overall safety score from the NHTSA. The other two Honda models to receive this score are the 2019 Odyssey and the 2019 Accord.
The 2019 Honda Passport (resurrected and completely revamped after a 16 year hiatus) is a mid-sized, five seated SUV. The size of Passport is ranged between the Honda CR-V and the Honda Pilot. The body structure of the Passport is designed to absorb the energy created during an impact, therefore deflecting it and reducing harm to the passengers inside. Due to this innovative design, the NHTSA gave the 2019 Honda Passport an overall 5-star safety score. The 2019 Passport received 4 stars in frontal crash, 5 stars in side crash, and 4 stars in roll over rating giving the Honda model the 5-star overall vehicle rating.
The most notable safety feature is inside of the 2019 Honda Passport; Honda Sensing®. Honda Sensing® gives the driver warnings about what's happening externally of the vehicle with audio/visual cues and even autonomous driving. For example, when the SUV is close to impact, it will use the Collision Mitigation Braking System to warn the driver that it is time to brake. The braking system will even begin the braking process to make sure the driver is aware the SUV should come to a stop. Another two features in Honda Sensing® are the Lane Departure Warning and Lane Keeping Assist System. These features are designed to warn the driver that they are drifting out of the lane they are in by shaking the steering wheel. These are only some of the programs within Honda Sensing® that were developed to help the driver prevent an accident.
Interested in test driving the new 2019 Honda Passport? Contact us to schedule a test-drive or give us a call at (800) 902-5537.
Model tested with standard side airbags (SAB). Government 5-Star Safety Ratings are part of the National Highway Traffic Safety Administration's (NHTSA's) New Car Assessment Program (www.safecar.gov).