Keenan Honda Honored With Honda Council of Parts & Service Professionals Membership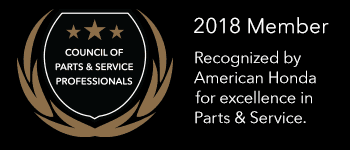 DOYLESTOWN, PA, FEBRUARY 28, 2019 – American Honda Motor Co., Inc., is proud to announce that Keenan Honda maintained membership status in the prestigious 2018 Council of Parts & Service Professionals (CPSP) for the 3rd time. This award is given to the top 150 Honda dealerships for operational excellence in their Parts and Service departments.
"This honor says a lot about the quality of customer service one can expect from Keenan Honda" said Bruce Smith, Senior Vice President of Parts, Service and Technical Operations for Honda. "Their Parts and Service teams proved to be among the best in the country, and we are proud to acknowledge their achievement."
The Council of Parts & Service Professionals was introduced in 2016 to recognize the top Parts and Service departments in Honda dealerships across the country. Keenan Honda earned membership through its dedicated expertise in Parts and Service and by completing key criteria for the 2018 program.
About Honda
Honda offers a full line of reliable, fuel-efficient, and fun-to-drive vehicles with advanced safety technologies sold through more than 1,000 independent U.S. Honda dealers. The Honda lineup includes the Fit, Civic, Accord, Insight, and Clarity passenger cars, along with the HR-V, CR-V, Passport and Pilot sport-utility vehicles, the Ridgeline pickup, and the Odyssey minivan. Honda has been producing automobiles in the U.S. for 37 years and currently operates 18 major manufacturing facilities in North America. In 2018, more than 93 percent of all Honda vehicles sold in the U.S. were made in North America, using domestic and globally sourced parts.